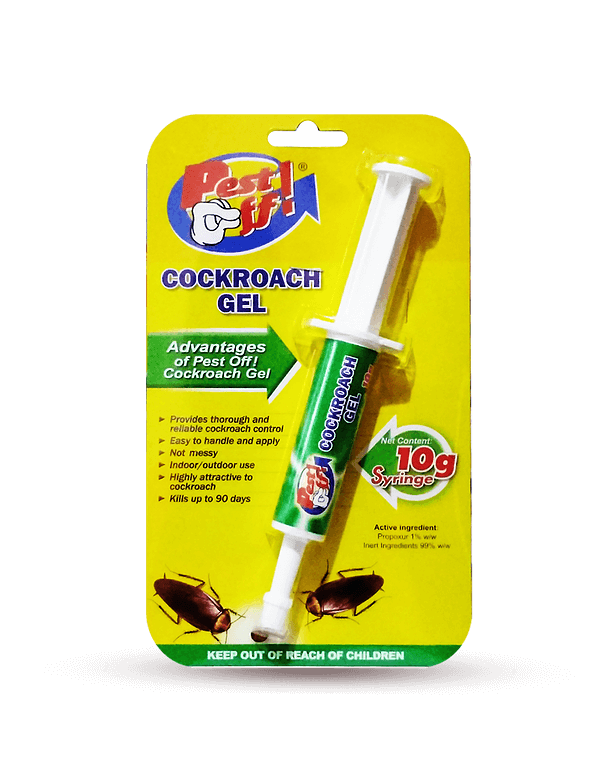 Pest Off! Cockroach Gel is the newest roach killing bait that provides thorough and reliable cockroach control. The syringe is easy to handle—great for hard-to-reach places! It is not messy, it can be used both indoors and outdoors, it is highly attractive to cockroaches, and it lasts up to 90 days.
Direction for Use:
Insert syringe tip between cracks and crevices where cockroaches may hide or enter. Apply in small spots about a quarter of an inch in diameter.
For moderate infestation, apply about 50 cm apart. If the density is high, apply about 10cm to 20cm apart.
Apply also in small amounts between different elements of construction; between equipment and floor; on openings leading into voids and hollow spaces in floors, walls, ceilings, equipment legs, and bases; around plumbing pipes, doors, and windows; behind and under the refrigerator, cabinets, sinks, closets, stoves and other equipment where cockroaches hide.
Do not apply gel to an area that has been recently sprayed with insecticides.
Precautions:
Use only as directed. Keep out of reach of children. Store in a safe and dry place away from food, beverages, and animal food. Avoid inhalation of dust or powder. Avoid too much skin contact.